Can E-Cigarettes Help You to Quit Smoking?
Posted on 20th February 2017 by Chloe Knox
Evidence Reviews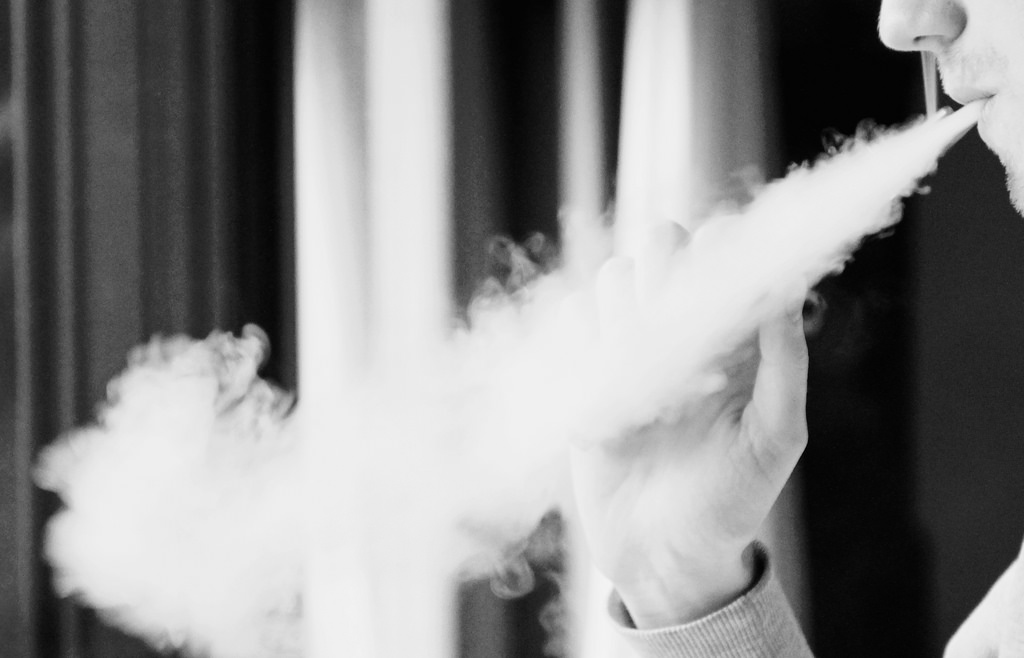 Chloe's blog 'Can E-Cigarettes Help You to Quit Smoking'? won joint 1st prize in our 2017 Cochrane UK & Ireland Symposium competition. See here for more information about what the entrants were asked to do. Her blog is written in the style of a Buzzfeed news article.
A major new mega-study has looked at whether electronic cigarettes can help you to quit and how their use might impact your health.
Electronic cigarettes hit the market in 2006, and their sales have increased rapidly since.
The e-cigarette has become a popular tobacco-free alternative to conventional cigarettes. But so far, their use has not been recommended by doctors because there have been concerns about their safety. There has also been a lack of information about how effective they are in helping people to quit smoking.

Flickr image, with credit to www.vaping360.com
Now, a major new mega-study has been published, which hopes to answer those two questions: just how effective are e-cigarettes in helping people to quit, and what are the risks?
The study has been published on the Cochrane Library. This collaboration has a reputation for producing powerful research mega-studies called systematic reviews. To produce these reviews, they take the best and most recent research about an issue from around the world and combine it into a single mega-study. The data they publish is very influential in the world of healthcare, and many decisions about treatment are based on their work.
The mega-study was published in 2016, and is an update to previous version from 2014. It combines the data of 24 studies from more than eight countries, including Belgium, USA, UK, New Zealand, Italy, Switzerland, France and South Africa.
Flickr image, with credit to www.vaping360.com
The review found that using e-cigarettes containing nicotine might help people to quit smoking.
The research shows that people who used nicotine-containing e-cigarettes were more likely to stop smoking for at least 6 months, when compared to people who used e-cigarettes which did not contain nicotine.
The review also compared e-cigarettes against nicotine patches, to see which was more effective in helping people to quit.
However, there was only one study that compared e-cigarettes to nicotine patches, so there is not enough research to be able to answer this question. It is an area that needs more research.
The researchers found that e-cigarettes do not cause serious short-term side-effects. 
The information about side-effects looked at people who had been using e-cigarettes for up to two years. In this time, there were no serious health problems related to the use of e-cigarettes.
Flickr
The researchers cannot say whether e-cigarettes are safe to use long-term.
This is because the studies didn't look at the health effects of e-cigarette use for longer than two years. The authors of this study hope that there might be an answer to this question in the future, when there is more research on this topic.
So what exactly does this all mean?
Well, although these findings are based on the best information available, there are still problems. Although 24 studies were used, only two of the studies were randomized control trials. These are considered to be the best type of study in science, generating the clearest results. Because there were only two randomised control trials looking at the effect of e-cigarettes on quitting smoking, the researchers had to include some other studies, which aren't quite as good at giving us an answer.
Another problem is the number of studies. 24 different studies from 8 countries might sound like a lot, but the researchers say this is "small." The general rule for a systematic review is that the more studies included, the better the evidence produced.
This means that in order to get a better idea of just how effective e-cigarettes are at helping people to quit, more research needs to be done. Some of these studies are being carried out now, and their results will be available in the future. However, until then, we should base our conclusions on the information available.
                                       Flickr
The current evidence shows that e-cigarettes might help people to quit smoking without the risk of serious side-effects.
Whilst there may be conflicting information out there, e-cigarettes could be considered another tool for those who wish to quit or reduce cigarette smoking in the short-term.
Tags: