Richard's reviews: Bisphosphonates, breast cancer & confounding
Posted on 18th September 2014 by Nathan Collicott
Evidence Reviews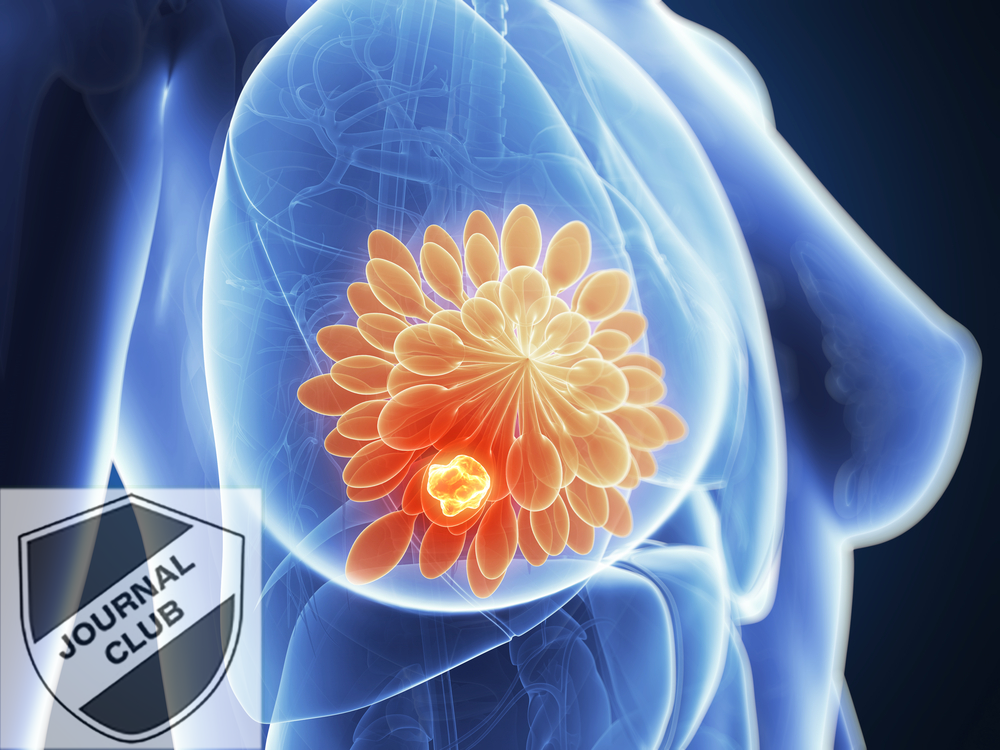 Clinical Question
Does administration of bisphosphonates reduce the risk of breast cancer in post-menopausal women, relative to placebo?
Study design
Post-hoc analysis of two double blind, placebo controlled, randomised control trials
Synopsis
Bisphosphonates are drugs used to treat osteoporosis. Previous in vitro studies have suggested that these drugs may also induce cell death and prevent cellular proliferation in breast cancer cells. Additionally, observational studies have suggested that women taking bisphosphonates are subsequently less likely to develop invasive breast cancer. However, this finding until now had not been evaluated in a randomised control trial. This is important because this relationship may have been the result of other factors. Post-menopausal women with low levels of oestrogen are more likely to develop low bone mineral density (i.e. osteoporosis), for which they are likely to be prescribed bisphosphonates. However, low oestrogen levels are also associated with a decreased risk of oestrogen receptor positive breast cancer. It may be this driving the association between bisphosphonates and reduced rates of breast cancer, rather than the bisphosphonates themselves.
This study takes data from two placebo controlled, double blind, randomised control trials assessing the efficacy of bisphosphonates in osteoporosis. Participants in these studies were post-menopausal women (13,774 across the two studies) who were randomised to receive a bisphosphonate or placebo. The current researchers searched the adverse event databases from these trials for breast cancer diagnoses reported during the follow up period. There was no difference in the risk of breast cancer when the bisphosphonates group relative to the placebo group in either of the studies, nor when results from both trials were pooled to form a larger sample.
Take home message
As well as demonstrating that bisphosphonates do not seem to reduce the risk of post-menopausal breast cancer, this study provides a nice example of the potential for discrepancy between association and causation. It highlights the importance of conducting randomised control trials and not relying solely on observational evidence.
Clinical Question
In patients undergoing percutaneous coronary intervention, what are the effects of using a bivalirudin anti-coagulation regime compared to heparin?
Study design
Meta-analysis of randomised control trials
Synopsis
Patients with acute coronary syndrome (ACS) that undergo percutaneous coronary intervention (PCI) are generally given anti-thrombin treatment to inhibit further clot formation and reduce further cardiac events in the immediate post-PCI period. Bivalirudin is a newer alternative to heparin, which was traditionally used for this indication. The use of heparin was associated with haemorrhagic adverse events and bivalirudin was developed in an attempt to reduce this.
This meta-analysis took data from 16 trials involving 33,958 patients and compared bivalirudin versus heparin monotherapy in terms of major cardiac adverse events (such as death, myocardial infarction and ischaemia driven revascularisation) and major bleeding events. These ischaemic complications were more common in patients treated with bivalirudin. Overall, bivalirudin lowered the risk of major bleeding but this effect was dependent on the strategy for using glycoprotein IIb/IIIa inhibitors (anti-platelet agents also used in ACS) in the trials.  In trials in which glycoprotein IIb/IIIa inhibitors were used routinely with heparin, bleeding was reduced by bivalirudin. However, in trials comparing bivalirudin with heparin monotherapy or in trials where the criteria for using glycoprotein IIb/IIIa inhibitors was equivalent across heparin and bivalirudin arms, there was no significant difference in bleeding rates.
Take home message
Bivalirudin is much, much more expensive than heparin and seems to be associated with increased major cardiac adverse events without necessarily providing a benefit in terms of reduced bleeding. In this case, the old kid on the block is cheaper and better. Happy days.
Richard's full review can be found here. 
Have a look at our other blogs on Richard's reviews here.
Tags: