A new dawn for stroke treatment
Posted on 8th June 2015 by David Gregg
Evidence Reviews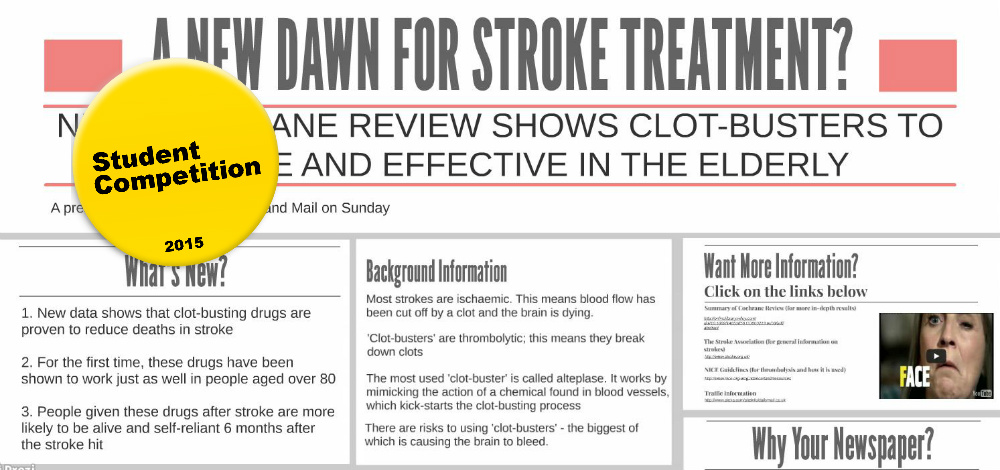 David's Prezi, 'A new dawn for stroke treatment' won 1st prize in the Cochrane UK & Ireland Student Symposium Competition 2015.
Thrombolysis with alteplase is the gold standard for treating ischaemic strokes. By destroying a clot, it is hoped the brain will suffer less ischaemic damage, thereby reducing morbidity and mortality. Thrombolysis has many contraindications (e.g. recent head injury) that means its use is rather restricted in clinical practice. There is ongoing research to try and widen the use of alteplase in clinical practise, as seen by the recently updated Cochrane Review into the subject. This review confirmed that the removal of the previous upper age limit of 80 in order to receive thrombolysis was made based on good evidence.
I was interested in the topic of thrombolysis and strokes from both a clinical and a communication point of view. The removal of the upper age limit illustrates the need for research into not only new treatments, but into the ones we have in order to ensure best clinical practice. Thrombolysis also offered me a chance to explore how different newspapers portray medical research differently, and how this might be used for the benefit of patients. By asking questions such as 'which newspaper would be most read by the over 80s?' and 'Is a sensationalist or sensible headline going to attract the attention we want?', I could explore the importance of varying communication based on who you are addressing, and why.
Tags: