Thrombolysis for acute ischaemic stroke
Posted on 8th June 2015 by Emily Kidd
Evidence Reviews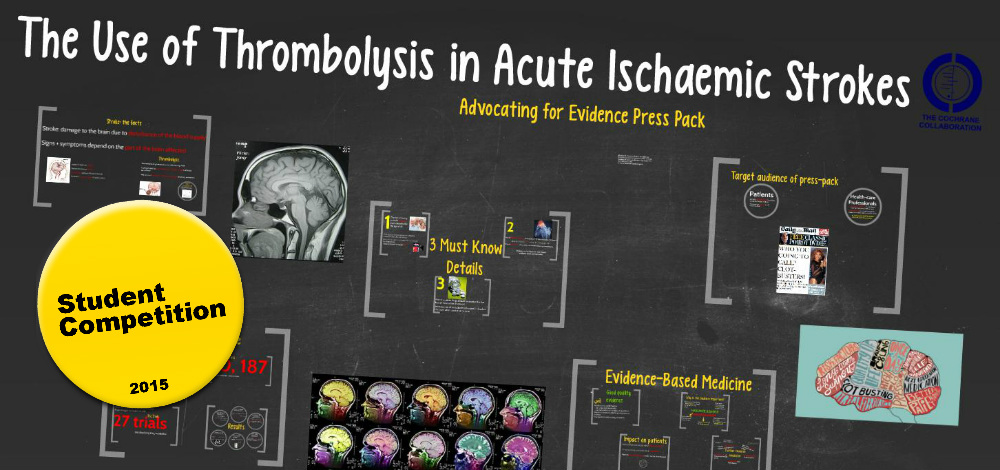 Emily's Prezi, 'Thrombolysis for acute ischaemic stroke' won 3rd prize in the Cochrane UK & Ireland Student Symposium Competition 2016.
In the UK it is estimated that one stroke occurs approximately every three minutes. Acute ischaemic strokes are caused by a clot in a blood vessel in the brain which prevents blood flow to the brain, which can potentially have life-changing implications. Thrombolysis is a treatment that can be used in the early stages of ischaemic strokes. It involves the breakdown of blood clots causing the stroke, thus allowing blood flow back to the brain.
Prior to this Cochrane Review, there was limited evidence for the use of thrombolysis in patients over the age of 80 years old – which is interesting to note as increasing age is a known risk factor for strokes. Additionally, as a medical student, I think it is important to use the most up-to-date evidence to inform the best practice for patients. As strokes are common and can have devastating consequences if not treated quickly, I thought it was important to look at the current available evidence on thrombolysis use in ischaemic strokes.
Tags: