Bristol March for Science, 22nd April 2017.
Posted on 18th April 2017 by Tay Aziz
News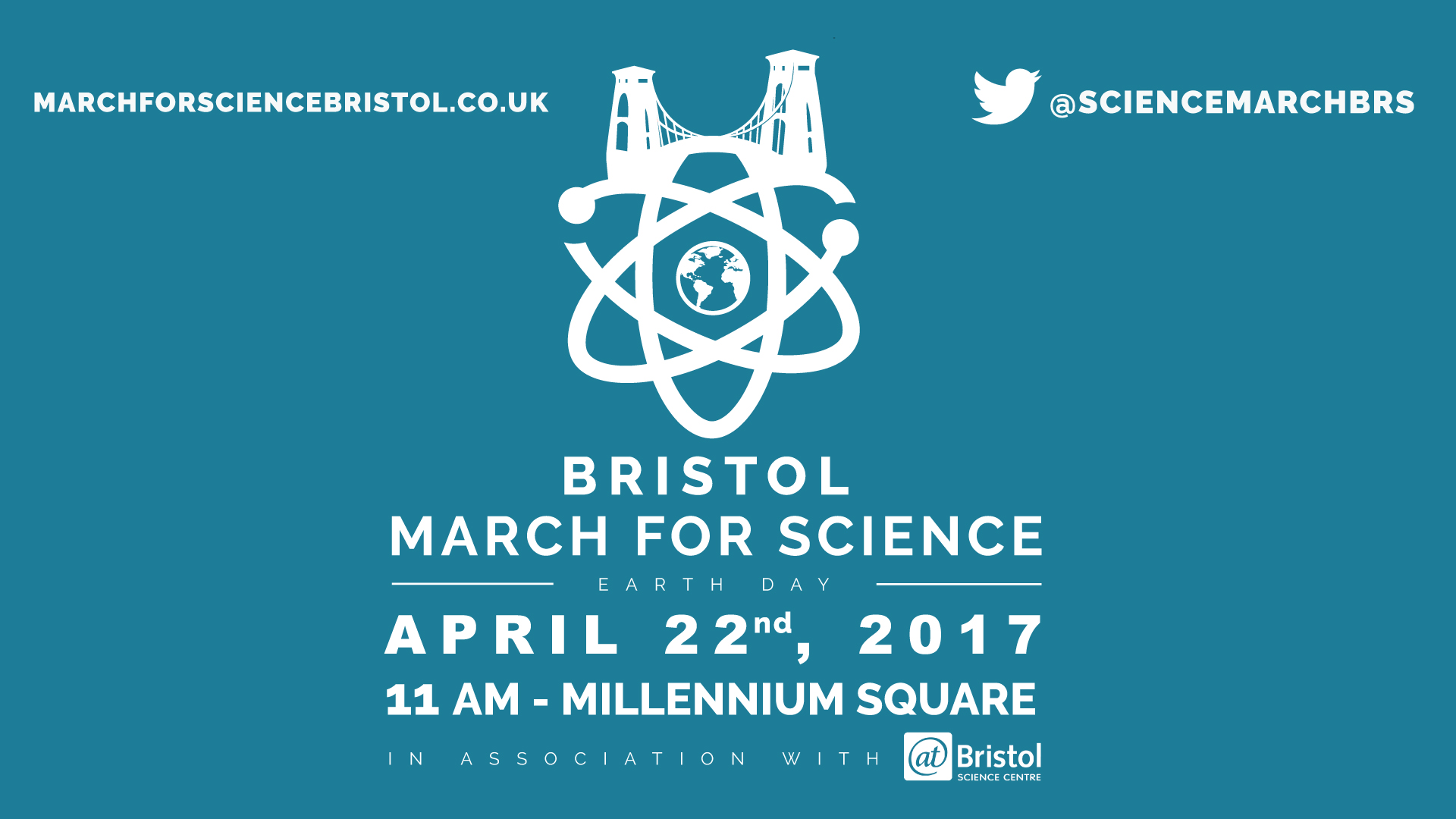 On the 22nd April (Earth Day) thousands of Bristol supporters of science – from students, to famous names from science and television – will take to the streets to add their voices to a worldwide movement of marches in celebration of the vital role scientific evidence plays in our everyday lives.
Scientific study underpins the foundations of the world
Yet, it is under attack across the globe, especially by those who have the power to change its influence. In a time when experts and evidence are being pushed aside, we must stand in solidarity to protect the use of scientific evidence in areas such as climate change and medical and environmental policy, and defend those working or studying in scientific fields such as research, medicine, engineering or technology. Budget cuts, censorship of researchers, disappearing datasets and threats to dismantle government agencies harm us all, putting our health, food, air, water, climate and jobs at risk. It is time for people who support science to take a public stand and be counted.
Bristol is a long-established centre of scientific excellence, home to major universities, industry and the biggest hub for wildlife filmmaking in the world. On the 22nd April, Bristolians will march in recognition of both the community's commitment to protecting these credentials and the important role the city has carved in the scientific arena. Renowned for its creativity, Bristol is a truly special place where the arts and sciences meet and the rare joining of scientific and artistic minds seems to be more commonplace in our city that most. However, it is this synergy of disciplines that has real potential to impact UK science. Speaking of this, Anna Starkey, Creative Director of At-Bristol, says "Good science needs what Bristol offers as a city – connected people asking questions, sharing ideas, who are not afraid to be playful and experiment in the unknown."
All students should have the opportunity for a quality science education
The march is a great opportunity to communicate a positive message to the public and public officials about the value and power of science, engineering and technology. The March for Science gives students the opportunity to step outside our universities and help inform all citizens about the value and importance of science and science education. The event has been designed to bring people of all ages in Bristol together to stand up for science. There will be stands and activities for children and adults alike in the Millennium Square, alongside prizes for the best banners – making it a fun but impactful day for families and for the future of their children.
We ask you to join us – it is time to stand up for and support the proper funding of scientific research, and demand the use of evidence to make informed decisions and policies. Prizes for best banners – science puns encouraged!
The Bristol March for Science is part of a global movement of more than 500 marches worldwide, happening on April 22nd – Earth Day. There are also UK sister marches happening in London, Edinburgh, Cardiff and Manchester.
For more information, visit the Facebook event: http://bit.ly/ScienceMarchBRS
Twitter: @ScienceMarchBRS
Tags: