How should we treat bronchiectasis?
Posted on 30th July 2015 by Deevia Kotecha
Evidence Reviews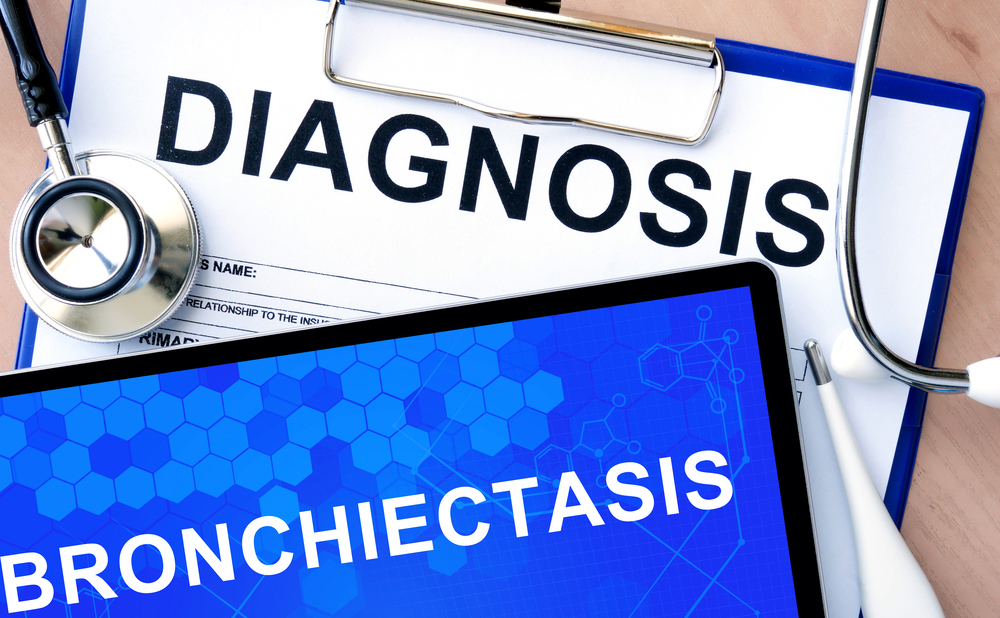 What is bronchiectasis?
Bronchiectasis is a long-term respiratory condition which occurs when parts of the bronchial tree become abnormally and permanently dilated (widened). This often occurs secondary to a previous infectious process. Frequent bacterial infections trigger the release of inflammatory mediators, subsequent airway damage takes place and as a result further infection develops.  The bronchi and bronchioles lose their elasticity, expand and become filled with fluid.
Presently the true prevalence of bronchiectasis remains unknown but evidence suggests an increase in the global burden. Most cases of bronchiectasis are identified within the first two decades of life and diagnosis is usually made following CT together with presence of clinical symptoms. The disease is usually associated with a problematic productive mucus cough and frequent flare-ups due to lung infections.
The disease can seriously impact on the normal activities and quality of life of sufferers and lead to repeated hospital admissions, loss of lung function and subsequent death.
Problems with treatment
On the whole there are very few trials and systematic reviews available on this topic. This makes it extremely difficult for clinicians to make evidence-based decisions on treatment of patients suffering from bronchiectasis because a definite conclusion about how to treat bronchiectasis has not been made. There is uncertainty over whether clinical decisions being made in practice are empirically grounded, safe, consistent and cost-effective.
The search for evidence
A Cochrane overview was produced in an attempt to present existing information from reviews concisely and effectively. An evidence map was created to demonstrate available information from guidelines, clinical trials and Cochrane reviews. This highlighted the areas in which new research was needed. The map flags up the areas of clinical practice which are most urgently in need of evidence-based support.
Here is how they developed the evidence map:
They looked at all Cochrane reviews of non-cystic fibrosis bronchiectasis found through searching the Cochrane Database of Systematic Reviews. 21 reviews were included but data was extracted from only 9 reviews which reported results for people with bronchiectasis alone
The quality of reviews was assessed using the AMSTAR instrument (a set of criteria used to indicate adequate quality)
Trials potentially suitable for, but not currently included in existing reviews which have been published were identified. A total of 46 studies were identified. This information was used to make recommendations for new Cochrane reviews
Summary of results
Overall, the quality of the evidence found was limited due to a lack of high quality studies. In addition often results could not be pooled where there was more than one study; this was not possible due to heterogeneity in either the treatment or outcomes. Quality of reporting was also inconsistent.
Of particular note, the level of evidence in the British Thoracic Guidelines was variable. There were fairly few trials in bronchiectasis, reviews in existence lacked data or had inadequate data and guidelines were based on low quality evidence. In conclusion, the evidence base for bronchiectasis largely lacked high quality randomised control trials needed to form robust evidence to support clinicians in clinical practice.
Key areas lacking evidence
Pharmacology:
Long term courses of antibiotics
Mucolytics and inhaled hyperosmolar agents
Short term courses of antibiotics
Short acting beta agonists (SABA)
Long acting beta agonists (LABA)
Pulmonary rehabilitation:
Physical training
Chest clearance techniques
What does this mean?
Current guidelines set for treatment of bronchiectasis by the British Thoracic Society have a poor evidence base
More research is needed into bronchiectasis which specifically focuses on measurement of exacerbations, lung function and quality of life. Currently there are significant gaps in the evidence base available
Either a national or international organisation for bronchiectasis needs to be established which sets patient values centrally and encourages design and development of high quality pragmatic trials
Links
Welsh EJ, 2015. Interventions for Bronchiectasis.
Available at: http://www.cochrane.org/CD010337/AIRWAYS_interventions-bronchiectasis-overview-cochrane-systematic-reviews
Greenhalgh. T, 2014. Evidence based medicine: a movement in crisis. The BMJ, Volume 348. http://www.bmj.com/content/348/bmj.g3725

How should we treat bronchiectasis? by Deevia Kotecha is licensed under a Creative Commons Attribution-NoDerivatives 4.0 International License. All images used within the blog are not available for reuse or republication as they are purchased for Students 4 Best Evidence from shutterstock.com.
Tags: