TaskExchange helps evidence newcomers
Posted on 29th March 2018 by Emma Carter
News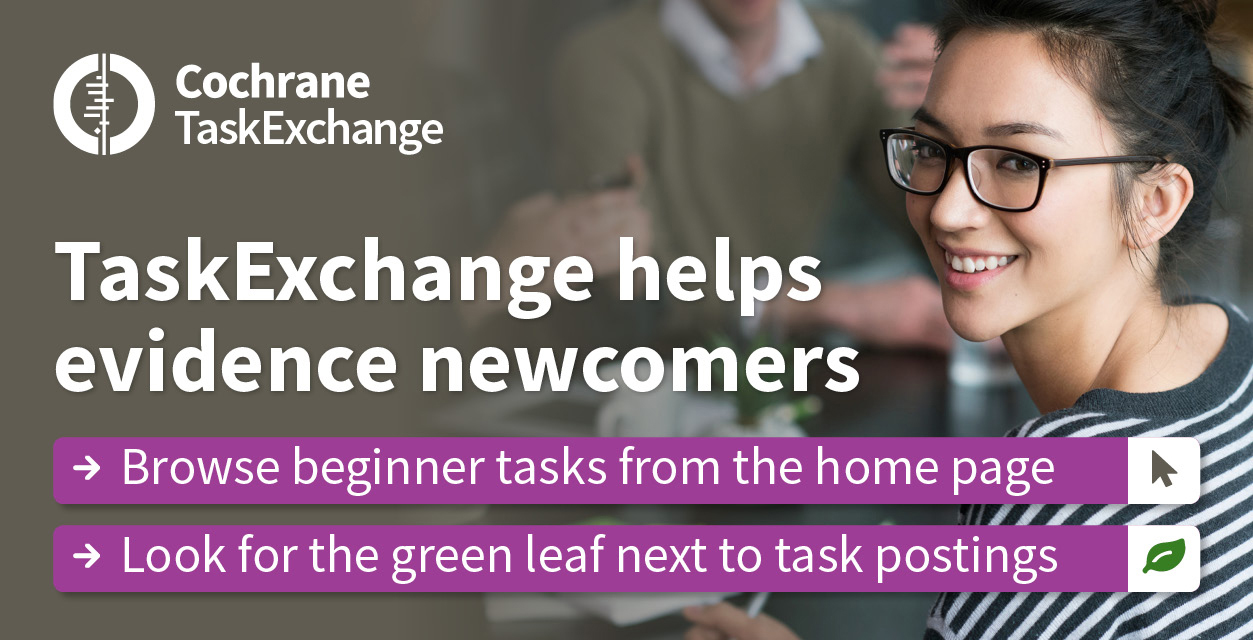 TaskExchange has launched new features especially for evidence newcomers!  
TaskExchange is Cochrane's online platform that connects people needing help on health evidence projects (Cochrane and non-Cochrane) with people who have the time and skills to help out. So far, over 500 people have gained experience on real health evidence projects through TaskExchange. Will you be next?
Evidence newcomers can now browse beginner tasks directly from the TaskExchange homepage. And all beginner tasks are marked with a green leaf, so they can be easily identified in the general task list.
'Many of our contributors join TaskExchange to build skills in evidence production,' says Tari Turner, Co-Lead of TaskExchange. 'They may be medical or allied health students, Cochrane Crowd members, or people with a general interest in evidence but little or no hands-on experience. We wanted to make it easy for these people to start contributing to evidence. On TaskExchange, evidence newcomers can now access appropriate tasks directly from the homepage. They no longer need to wade through tasks requiring significant prior experience. This will make it much easier for them to get involved.'
At Students 4 Best Evidence, we're really excited to learn about this new TaskExchange feature, which aims to make it clear which tasks are suitable for students. Not only will this make it easier for students to contribute to the work of Cochrane, but it also offers the opportunity to gain really valuable experience and knowledge along the way.
Hilda Bastian, one of the founding members of Cochrane, once said 'young people are the most striking phenomenon. They're bringing a blast of energy, enthusiasm…and cutting edge scientific work with them. It's fantastic that TaskExchange are finding new ways to try and harness this.'
If you'd like to gain evidence skills, visit TaskExchange today and browse the tasks for beginners!
Sign up to TaskExchange, follow them on Twitter and contact them at taskexchange@cochrane.org.
Tags: